Steam While You Boil With One Single Pot
Cook Anything, Anywhere,With This Tool
EASY TO CLEAN-Don't spend time brushing overcooked food left on cook-potsurface anymore. With ceramic coating,it is surprisinglyeasy to clean the pot after use.

MULTI-FUNCTIONAL – With ceramic coating, the cookpot is capable in assistingyour cooking in different ways. Stir fry, pan fry, deep fry, rice-cooking, boiling and more.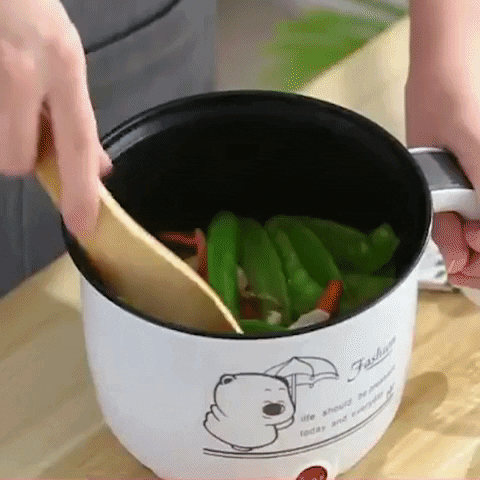 2 HEATING POWER LEVELS – Simply adjust heating power by pressing the ON/OFF button. Fits your needs while frying, steaming or boiling!
COMES WITH GREAT TOOLS – With a set of great tools including metal steam basket, 2-way pot cover, egg-steaming basket, wooden spatulaand more, your cooking has never been this easy and speedy. Handle different cooking tasks with one single pot!


SPECIFICATIONS

– Capacity: 1.8L capacity
– Materials: Non-Stick Ceramic, Plastic, Stainless Steel
– Rated frequency: 220V 50Hz
– Color: White/ Light Pink
–Cover : Length 4cm Width 16.5cm
– Steam Basket: Height 6cm Width 22.5cm
– Cookpot Body:Depth 13.5cmLength 17.5(without handle)/ 22cm(with handle)
PACKAGE CONTENTS:
– Portable Multi-Functional Electric Cookpot x1 (Light Pink/White), Plastic Egg Steamer x1,Plastic Bowl/Cover x1,Metal Chopsticks x1,Metal Big Spoon x1, Wooden shovel x1,Metal Small Spoon x1,Cleaning Cloth x1